How to Register Infolinks and Fast Received - Adsense Alternatives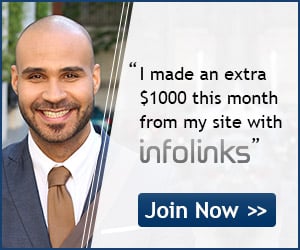 Merge into one publisher infolinks not as easy as one might imagine, this is because the site infolinks as the others also seeks to provide an advertising service that is reliable and successful. For that to when registering infolinks can be directly approved we must know how to list and preparations that need to be done before.
Preparation for Infolinks Register
For bloggers who intend to join the infolinks, before registering it helps you read this article, first and foremost there are some important preparations related to the blog that will register to infolinks. Here are some notes preparations register infolinks:
Your Blog Language
Not all languages are supported by this website. To make sure that the blog will be registered language has been supported by infolinks, to know what language that has supported infolinks please visit infolinks.
Your Blog Content
Infolinks is not limiting in much of the blog publisher, however there are still minimum requirements that must be owned by a blog to become a publisher infolinks. In this regard I suggest the following:
Make sure that the posts (articles) of your blog is unique content. With unique content, indirectly you have stated that your blog has a strong foundation to attract the interest of visitors will become customers for the ads displayed. In addition, I suggest that you make a post with a regular and scheduled.
Your Blog Visitors
Upon receipt publisher infolinks, I do not know for certain information regarding visitor restrictions blog for the publisher, but visitors are too small will not be approved by infolinks. Therefore I suggest you should regularly collect first visitors to your blog. Then when visitors about 200 unique visitors per day. You are ready to register infolinks.
Your Blog Display
Make sure the design and appearance of your blog already completed work on, make sure that the next few months there will be no significant changes in the design and look of the blog. This is because the more often you change the design and look of the blog the worse the image of your blog in the eyes of search engines, I have proved this with studies in the last year. If a blog has a bad image in the eyes of search engines this certainly would not be good for infolinks and your own course.
There are several ways that I want to share, how to register infolinks, here are some tips to register infolinks directly approved:
Use blogs with languages supported; in this case I recommend to use the English language blog.
Take a look back to your blog, is a blog that will be registered including quality blogs.
Do the preparation as described above:
Give a minimum of one month to the search engine, to improve the image of your blog by:
Do not change the design, template blog if not absolutely necessary.
Perform the update at least three times a week each 2 articles on a regular basis.
Perform repair of the articles that have been published in order to be an article that is truly unique and qualified.
Discard copy and paste articles results and similar articles (duplicated content).
Monitor the development of the performance of the blog, if the blog is progressing, you can proceed to registration infolinks but if blogs are not experiencing growth or even declines, first delay your desire to register and wait until there is a positive indication of the development of your blog.
It's ready to sign up. You can register
here